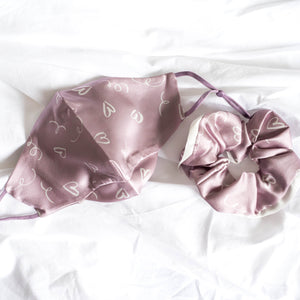 Each mask comes with one piece of 5 layer activated carbon PM 2.5 filter and a matching 19 momme 100% pure mulberry silk large scrunchie.  While stocks last.
ENHANCE YOUR FACE MASK GAME
100% pure mulberry silk face masks with a thickness of 19 momme and the use of highest grade (6A) long fibre mulberry silk make our face masks extremely gentle and ideal for all skin types.
Our face masks are made with

non-toxic dyes with full silk double sided to protect your skin with elegance. Light as air, they offer flexible breathability while the inner filter provides protection against viruses and bacteria. Now you can 

eliminate mask-ne breakouts and reduce allergies and bacterias with our pure silk face masks that even help to improve your complexion.
100% natural, odourless and hypo-allergenic, made suitable for sensitive skin. These pure silk masks even contain a natural protein called sericin that reduces possibilities of an allergic reaction as mulberry silk is usually used for bedding and sleepwear products.
Our Face Masks are:
100% Pure Mulberry Silk and double sided
600 Thread Count, 6A Grade, 19 Momme 
OEKO-TEX Certified Silk
Adjustable elastic earloops for tighter fit
Adjustable thin nose wires for better fit
Slot to insert an optional filter (one filter included)
Gentle on all skin types 
Helps to avoid breakouts and skin irritation.
Reusable and washable
Benefits of Silk - Made entirely from the highest quality silk, it was designed with one thing in mind: protecting your face with elegance and to help avoid breakouts and skin irritation. Thanks to its fine weaves, our silk face masks add a little luxury and glamour to your everyday routines. You can fashion it all day while remaining gentle on your face, helping to reduce breakouts and to fight against bacterias on your face. Silk also helps to improve your complexion over time.
Momme? - Is the unit used to describe the weight of silk thread. Silk sheets with a momme weight of 12-14 is considered good quality, while those that fall within the range of 15-18 is considered very high quality. That's why we made ours 19 Momme. Made with the finest pure 19 momme Mulberry Silk, designed to be gentle on all skin types.