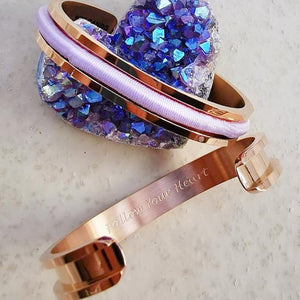 Follow you heart and do the things that make you happy! In the end, happiness is what we are looking for in this life.
A reminder bangle to be worn daily, our new Follow Your Heart deeply engraved bangle is also sized in petite rose gold for a better fit. You can fit up to three hair ties on it.
A unique and functional gift for the important ones in your life, you can wear it with or without the hair tie.
Hair tie cuff made in stainless steel with 18K rose gold plating, hand polished to a high-shine metallic finish and deeply engraved. Each engraved band also comes with our signature logo at the side.
Mildly adjustable. Our Wee Bands are made with high quality materials having high tensile strength, which may make it a bit difficult to bend for some. Please make sure to measure your wrist sizes before placing your order.
Hypoallergenic and tarnish resistant (alcohol wipes will not tarnish our bands).
All our bangles come with a black hair tie and either a luxury marble box or suede jewelry pouch of your choice upon checkout.